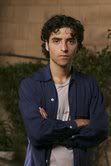 David Krumholtz, star of the TV3 series Numb3rs admits he has a secret which could jeopardise his role on the hit show.
Sunday, November 5th at 9:30pm on TV 3
In the show Krumhotlz plays Charlie, a young college maths professor recruited by his FBI agent brother Don (Rob Morrow) to solve particularly complex crimes.
However, Krumhotlz admits that he is terrible at math in real life and struggled with his role in the beginning because of the complexity of the maths equations he had to work with.
"I might as well tell the truth – I was terrible at math in school," says Krumholtz. "It was a real struggle for me. I did all right with the basic maths, but soon as we hit algebra that was it. I just didn't get it."
Krumholtz says he almost didn't show up to the audition because of his fear that they would test him on his mathematical knowledge, as well as his acting.
However, after braving the audition and gaining the role, Krumholtz was relieved to find that there would be help at hand.
He spent considerable time with real-life mathematicians in order to absorb their terminology and develop that 'deep-in-thought' look that comes with intense inner calculations.
"This has almost been like learning an entirely new form of acting for me," he says. "Playing a genius, when you are not one, is quite a task!"
Luckily, admitting his lack of understanding in the mathematical department has meant that other cast members have also stepped forward to admit that, despite the fact that the show revolves around mathematical theory, they too, struggle with the subject.
"The beauty of this show is that, yes, it revolves around equations and calculations, but it's also part crime show, part family show and there are some really funny moments in it too," says Judd Hirsch who plays Krumholtz's father, Alan, who is also a mathematician. "You don't have to be a world-class mathematician to enjoy this show, because I am certainly no math whiz and I still love it."
In light of the many people who struggle with the subject, and because of the huge amounts of people watching the show, CBS has recently teamed up with one of America's biggest producers of calculators and mathematical equipment to create a series of activities linked to episodes of the series which will be used as an educational resource for students.
"This website was specifically designed to help students and their parents realise how relevant math is to everyday activity and understand the importance the subject plays in their future success," says a CBS spokesperson. "By tying the math used within each episode of such a popular show as Numb3rs to classroom activities, teachers can increase interest with these real-world examples."
It's a concept that Krumholtz thinks is genius.
"Maybe if they had a show that made math interesting like Numb3rs does when I was at school, I would have been able to appreciate it more," he says.
In Sunday, November 5th's episode of Numb3rs, a deadly anti-war bombing becomes personal for Don and Charlie when the investigation reveals information about their father's past.
Don't miss the show that equals excitement! Numb3rs screens on 3, Sunday, November 5th at 9:30pm.