Satirical, subversive and sometimes shocking, Eating Media Lunch is back for a sixth series from November 3.
Hosted by Jeremy Wells the media satire show will tackle racism, reality TV and the country's best known protesters.
The series kicks off with the Most Shocking Moments of 2006 and a shocking revelation concerning Nicky Watson.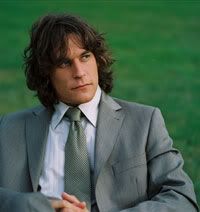 The climax of the series will be the much anticipated annual EML Awards which have been expanded to encompass a one hour special which will screen on Friday, December 22.
Last year EML shocked viewers when it depicted two newsreaders fornicating.
"Christ only knows what shocking shit will hit the fan this year," says Wells, "I mean are farts meant to be runny?"
A number of special correspondents have also been added to the EML line up this season.
They include former Close up reporter Hugh Sundae with a special report on a Britain's first Wankathon.
Meanwhile Matt Heath and Chris Stapp (aka Back of the Y) investigate TV obsessives and radio host Wallace Chapman reveals some unusual forms of entertainment in the South Island.
Media Dog's creator Anthony Ellison returns with more savage animation featuring among other notables; Bob Clarkson and Star Wars director George Lucas.
Some of the more prestigious categories include Services to Scaremongering, Worst Moment on Reality TV, The Inappropriate Touching Award and the much coveted New Zealander of The Year trophy.
Eating Media Lunch, Friday November 3, 9.30 pm, TV2