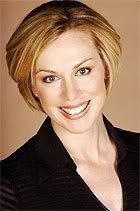 Not that I'm a fan of One News or anything but this article on stuff today kinda annoyed me.
Basically, Wendy is coming last on the TV Guide Best of the Box poll. So why is this news worthy? Because One News continues to nose dive in the ratings and it's such an easy target.
What I find funny is this sentence:
Wendy tails TV One colleagues Simon Dallow and Bernadine Oliver-Kerby, TV3's Mike McRoberts, Hilary Barry and Carolyn Robinson.
If it's bad news for Wendy Petrie, then it must be terrible news for Carly Flynn (nee Kirkwood) who doesn't even rate.