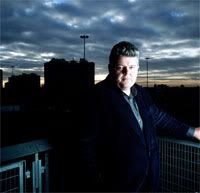 Cracker is back. The multi award-winning crime drama returns in a hard-hitting new murder story starring Robbie Coltrane as criminal psychologist Dr Edward 'Fitz' Fitzgerald.
Sunday 3 December, 8.30pm, TV One
Fitz and his wife (Barbara Flynn) are back in the UK after 10 years living in Australia. What was meant to be a fleeting visit for their daughter's wedding sees Fitz rediscovering old passions and desperate to prove he's still got what it takes to get inside the mind of a killer.
"On the way home from the wedding, Fitz and Judth's taxi is stopped by a police road block outside a club where an American man has been murdered – and you can see the excitement on Fitz's face," says Coltrane.
The lure of a new murder investigation proves irresistible, despite the changes to the people and places he knew before, and he leaps at the chance to help police crack the random killing. "He has been an academic in Australia, working nine to five, so as soon as he gets in Manchester and sees the Do Not Cross tape he says, 'Please, please, Mummy, come to me!" says Coltrane. "You can imagine Fitz in Australia – down the beach having a Barbie in his black suit. He wouldn't have been happy."
Coltrane relished playing the ferocious police psychologist again. He admits that he's fond of the character. "He is a fascinating person. I think he'd be a great guy to spend all night with, getting completely pissed and find out what was going on in his head. But you wouldn't want him to come to dinner – he'd frighten the children."
But why bring him back after a 10-year hiatus? "I always said that if [series writer] Jimmy McGovern had a brilliant idea and I had the time, I'd come back," he says. "McGovern wanted to make a film about violence. He wanted to say something about how violence begets violence. Not a new idea, but one that he thought bore repeating."
"As with most of the 'Cracker' episodes, you know who the culprit is right from the start, and this time the man with blood on his hands is a former soldier who is determined to avenge his comrades' deaths in Northern Ireland."
It becomes a matter of life and death to Fitz to prove to his family and to himself that his powers remain undimmed. He's soon on the trail of the troubled ex-soldier, who – like Fitz- is trapped in the past. Tormented by his experiences in Northern Ireland, Kenny is haunted by the ghosts of his comrades and feels their deaths are seen as insignificant since 9/11 and the war against terror. Fitz is alone in understanding Kenny's despair – but will he be able to stop him killing again?
And is this the final outing for Fitz? "No. Fitz is a great character and I'll always play him if there is a really good reason for it," says Coltrane. "The way police procedure is now with DNA and so forth, it's quite difficult to find cases that are entirely solved psychological intuition. Like with all good writing, you shouldn't have to force it."