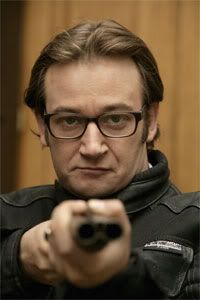 A mapcap drama about an inept actor who switches places with an erudite, hardened criminal.
Sunday 26 November, 8.30pm, TV One
George McCabe (James Dreyfus) is an infamous career criminal who currently resides at a maximum security prison. Lawrence Nixon (also Dreyfus) is a struggling actor; the only thing he has going for him is the fact that he is the spitting image of McCabe. The result: Lawrence's big acting break starring in a TV reconstruction of McCabe's notorious downfall.
The trouble is Lawrence's acting ability is sadly lacking, so in a desperate attempt to breathe life – if not accuracy – into his portrayal of McCabe, he unwisely embellishes his performance with a menacing lisp and a camp walk. Inside the prison the real McCabe becomes a laughing stock, and vows revenge on Lawrence.
Lawrence is kidnapped and left no choice but to temporarily swap lives with McCabe. The swap is a success but no one could predict the life-changing effects this unlikely switch has on the two men – it seems they have much more in common than either would ever have dreamt…