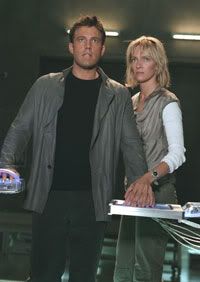 Ben Affleck and Uma Thurman star in the big Hollywood blockbuster, Paycheck, tonight on TV2.
Ben Affleck stars as Michael Jennings – a man who is being hunted but has no idea why. A world-famous genius hired by high-tech corporations for specialised top-secret projects, Michael has his memory erased after every job is completed so he is not put in the position to divulge any company secrets. He is highly paid for his work and expects to earn eight figures for his latest three-year project. However, once the job is completed, instead of a big paycheck, he is given an envelope full of random objects and is told that he agreed to forfeit all payment.
With his memory already erased as per his contract, Michael has no defence – until he discovers the objects are all clues to his past. Now, with the help of his co-worker and lover, Rachel (Uma Thurman), he is in a race against time to put the pieces of his past together before his previous employers have him killed.
Paycheck is an action-adventure blockbuster, yet has a strong underlying story of love that focuses on the relationship between Ben's character, Michael, and Uma's character, Rachel. Academy Award-winner Ben Affleck says that while his character, Michael, is a genius, he still has an emotional side – as depicted in his relationship with Rachel.
"As dedicated as Michael is to his work, we can see the way he flirts with Rachel that a side of the man is very vulnerable," says Ben.
"While it's true that when we first meet him, he may appear to be just some genius making one gigantic pay check after the next, he definitely starts to rethink his work, and as the stakes get higher, it suddenly isn't about the money anymore, it's about discovering who he really is and unravelling what he's done."
Paycheck is TV2's Sunday Premiere Movie, screening at 8.30pm on Sunday, November 26.