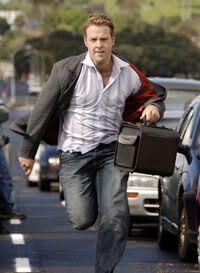 An unexpected road accident sees Doctor Mark Weston and colleague Maia Jeffries apply their medical skills outside the hospital on Shortland Street this week.
Administering aid on the spot is usually the role of a paramedic but when Mark (Tim Foley) and Maia (Anna Julienne) realise that an ambulance has been held up in a traffic jam, they must take action into their own hands.
"Mark makes the decision that he has to start treating anyone who's injured on the spot and act as a buffer until the ambulance and the paramedics can get there," says actor Tim Foley.
The two have little time to consider what needs to be done and Tim is quick to admit that the decision to run and help is based primarily on instinct. "As soon as he's sees that a lady is bleeding it's a straight act. As all good doctors should do, he has a doctor's bag in the back of the car – so he grabs that and heads straight into it."
Providing medical aid is a day-to-day job for doctors and nurses in the hospital working environment but without the support and facilities a hospital provides, the situation can be radically altered. Tim admits that being a doctor outside the hospital is a completely different kettle of fish.
"It's stuff that Mark's encountered but it's not an every day occurrence by any stretch. It's basically providing stop-gap measures before you can treat someone properly in a hospital situation."
Tim believes his character is able to excel with his support at the scene of the road crash due to his experience of working in the Emergency Department. "He's used to dealing with trauma patients on the spot. So people that have had accidents are very common in the Emergency Department (E.D). I definitely think that his training in the E.D. is a benefit in this situation." Tim also attributes the strong working relationship between Mark and Maia as a main factor in the pair's ability to help.
"They've worked with each other on and off for over two years now," says Tim. "There's definitely an understanding there and obviously the fact that they're great friends means that they can work together efficiently in that sort of circumstance."
Come watch Mark and Maia in action, this week on Shortland Street at 7.00pm on TV2.