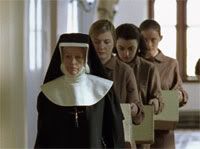 Peter Mullan's 'The Magdalene Sisters' is based on the shocking true story of thousands of women who were rejected by their families and abandoned to the mercy of the Catholic Church. Dismissed as 'fallen', these women were institutionalised often having committed no crime other than being poor, orphaned, victims of rape, having a child out of wedlock, or deemed to be in 'moral danger'.
Saturday 25 November, 10.35pm, TV One
Under the strict supervision of the Sisters of Mercy, women in the Magdalene homes provided unpaid labour 8-10 hours a day, seven days a week, cleaning the laundry of local hotels, universities and institutions. This was seen as penance for their sins by the society that deemed them unfit or 'unsafe' for normal life.
Mullan wrote 'The Magdalene Sisters' after being inspired by the documentary 'Sex In A Cold Climate' which highlighted the plight of the Magdalene women. Mullan was incensed by the level of injustice these women suffered and wanted to bring their story to a wider audience. He decided to base the film on four distinct stories and used video evidence as his main source of research. Having seen several documentaries about the Magdalene women, Mullan allowed their testimonials to speak for themselves, taking the essence of these to make a feature length film. "It's a drama, it's a fiction, but is inspired by their stories," he says.
Mullan set 'The Magdalene Sisters' on the outskirts of Dublin, Ireland in 1964. In a time when many women were experiencing new found cultural freedom, four young women struggle in the Magdalene laundries to survive incarceration in 'god's sweatshop'. Margaret (Anne-Marie Duff) was raped by her cousin and blamed for this by her family; Patricia (Dorothy Duffy) and Crispina (Eileen Walsh) are unmarried mothers and Bernadette (Nora-Jane Noone) was simply attracting too much interest from boys.
However, far from a Christian haven, the asylum proves to be a virtual prison as the four are forced to slave all day in the laundry, beaten and humiliated. The narrative is centred on their lives during incarceration and their difficult relationships with the nuns who act as their jailers.