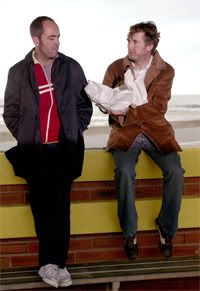 James Nesbitt stars as Ray, a small-time scammer who is forever on the lookout for a quick buck.
Sunday 10 December, 8.30pm TV One
Ray and his dim-witted sidekick Perry (Pierce Quigley) switch briefcases with a man preparing to board the ferry to Ireland and are staggered to find that the case is stuffed with two million pounds. But their celebrations are curtailed by the arrival of moneylender Dave (Ralph Brown) and his two massive minders, Stefan (Martin Herdman) and Victor (Steve Money). Dave has heard of Ray's financial windfall and threatens him over the repayment of an old debt.
Things go from bad to worse when Ray finds a young boy's photo and ransom note hidden in the briefcase, and it dawns on him that their victim was about to meet his son's kidnapper – and now has a case full of newspaper! He persuades a reluctant Perry to give Dave and his 'associates' the slip, and help return the money and save the boy's life.