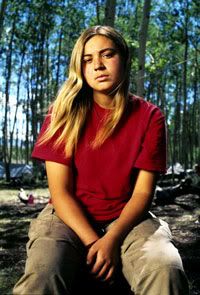 Brat Camp is back – and this time, it's a girls-only affair. In the opening episode of the third season, seven British teenage girls arrive at a leading American wilderness programme for out-of-control teens.
This is no boot camp. However the girls behave, the course instructors do not believe in shouting at them – the camp's secret weapon is a mild-mannered, softly-spoken Buddhist named Norman, for whom not raising his voice is not just a rule, but a religion. Stripped of their clothes and possessions, the girls are dropped in the middle of the wilderness in the dead of night. It's here, in 10,000 square miles of wilderness, the girls must live throughout their stay. The conditions are stone-age, the daily hiking with heavy packs is compulsory, and the agenda is simple: to change the behaviours that brought them here. But not all of the girls want to get with the programme – and instead, hatch a daring plan to get out…
As Norman describes it, "This is going to be the toughest challenge that these girls have faced up to now in their lives. The wilderness will absolutely disorientate them, the weather is going to challenge them, the physical tasks of actually staying alive out here will break them down."
Middle-class tearaway, Georgie, 16, has been arrested 10 times. Expelled from school, and is a heavy drug-user, Georgie summarises her life, saying: "I just eat, sleep, spend [my mum's] money on drugs."
Lucy, 15, terrorises her family with her violent rages. Home video shows her mother cowering as she kicks her father. Her parents admit that they don't know what the solution is.
Posh, spoilt brat, Poppy, 15 has got her own way since the day she was born. "The person in control of this house is Poppy," says her mother, Jane. Rosie has been having sex since she turned 13. Now 15, she seems to have lost all direction and purpose in life, and refuses to go to school.
Middle-class Lydia, 16, left school without qualifications, and lives a drop-out lifestyle; while Julia, 16, expelled from two boarding schools, smokes 20 spliffs a day.
Danni, 15, regularly runs away from home to pursue her party lifestyle. Her parents have had to report her missing 70 times in the last year.
Brat Camp follows these seven troubled teens throughout their time at the camp, and checks in with their parents back in the UK – whose only contact with their daughters is by letter, and phone calls with the camp's therapist.
Brat Camp screens at 8.30pm on Thursday, December 21, on TV2.
As a special addition to series three of Brat Camp, a special sister-series packed with extra footage and features – Brat Camp Unseen – will screen on TV2 on Thursday, December 21, at 11.30pm.