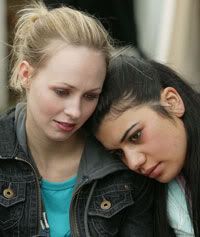 This week on Karaoke High, Charlie and Callum's relationship takes a rollercoaster ride, which may not see them last the distance.
7:00pm Weeknights Dec 25-29 TV2
After becoming instantly attracted to one another upon meeting at Kingston High's dance academy, it hasn't been an easy road to romance for Callum Hartley (Paddy Fogarty) and Charlie Anderson (Julia Walshaw).
Charlie's friend Lara Faiva (Sharnika Robson) made it clear to Charlie that she had feelings for Callum – not knowing Charlie felt the same way for the handsome student. When Charlie discovered her friend liked Callum too, she tried to hold back from going further with him. But it wasn't long before Charlie and Callum succumbed to their attraction. Now, things have heated up between them and they are going to great lengths to hide their relationship from Lara. How will this end? Will they be able to keep it from Lara?
Meanwhile, the dancers are excited about a film crew coming to film them at the school. Hone Kingi (Vanepale Sopoaga) and best mate Matu Johnson (Ian Finau) have a fall-out over dancing and Hone decides to ask Lara for some help with his mid-term assessment. Miri Williams (Alina Transom) gets the wrong idea about her boyfriend's motives and her jealousy threatens to ruin her relationship with Hone.
School teacher David Branch's (Phil Brown) on-again, off-again relationship with fellow dance teacher Angela Bartlett (Miriama Smith) looks to hang in the balance as a surprise from his past emerges and leaves David, Angela, and Kingston High's students in a state of shock.
With love triangles, musical treats, dazzling dances and drama galore, the only place to be on weeknights at 7.00pm is with the crew from Karaoke High on TV2.