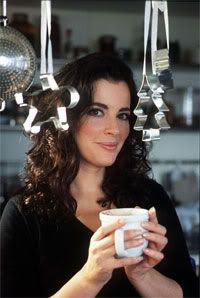 In 'Nigella's Christmas Kitchen', domestic goddess Nigella Lawson lays out her philosophy for not only coping with, but also actively enjoying cooking over the festive season.
Saturday 16 December, 7.00pm, TV One
For Lawson, Christmas represents everything that she loves – food, entertaining, home and family and across this three-part seasonal special she brings to viewers some delicious (and fun) Christmas recipes.
"Christmas food is the best sort of food because it's about proper, unpretentious home cooking," says Lawson. "Feasting isn't about formality: it's about providing friends and family with good things to eat."
In the first episode, Lawson helps us to deal with pre-Christmas entertaining – which can be everything from a children's party, to coping with the extended groups of drop-ins that somehow appear at Christmas.
Although the very idea of canapés seems to scream 1970s, they are always fallen upon with gratitude and Lawson offers some simple guides to getting them right. Her favourite festive treats include salty combinations of mini Mozzarella, Parma Ham and intensely flavoured anchovies and sun dried tomatoes that are quick and simple to assemble. She also whips up a few substantial standbys – such as Spiced Beef and a Carpaccio of Salmon preserved in the style of gravallax but with an Italian twist.
In programme two, she offers her favourite recipes for Christmas baking, including the recipes that have dropped off the Christmas list and the traditional Christmas dinner. And in the final programme Nigella delivers her method of cooking a turkey guaranteed not to disappoint.
The series also includes an element of travel providing inspiration for the recipes. A trip to a Salzburg Christmas market will be the inspiration for cinnamon biscuits, Christmas stollen and a brandy-infused hot chocolate.