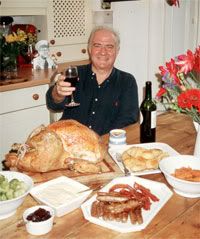 Popular TV chef Rick Stein scours England in search of delicious treats to put into a Christmas hamper.
Saturday 23 December, 4.45pm TV One
From free-range turkeys, to hams and artisan cheeses, Stein discovers plenty of lovingly produced delicacies for the Christmas table.
However, the traditional turkey isn't Stein's favourite festive food. "I prefer goose to turkey and there's much less meat on a goose. It's a bit of a relief really because you don't find yourself eating goose all the week after Christmas; as you do with turkey," says Stein.
"Plus, I always look forward to a Boxing Day lunch (after the pub!) of sliced goose (cold goose is wonderful), sliced ham, red and white cabbage salad, beetroot and celery salad, baked potatoes and one of our homemade chutneys from the restaurant."
So Stein is particularly impressed when his favourite food writer Matthew Fort treats him to cold roast goose with a simple salad for this Christmas special. He also hooks up with wine expert Oz Clarke to sample Nyetimber Vineyard's award-winning English sparkling wine and enjoys a belt-loosening session with the members of the Pudding Club putting various Christmas puddings to the taste test.
After sampling this mouth-watering local fare, Stein declares: "My Christmas wish would be that everyone would try and buy local food as much as possible."
Sadly, this is the last time that Rick is accompanied by his four-legged co-star Chalky, as the little dog is getting somewhat old and doddery. However, as his last hurrah, the plucky Jack Russell terrier does get to tour around in a Land Rover dressed up as Santa.