Daniel Fitzgerald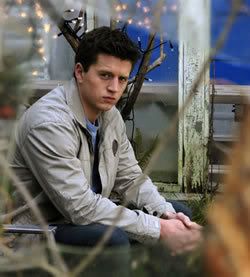 Cop. Ambitious, conflicted, sensitive. Isobel's boyfriend.
Daniel always wanted to follow in his Dad's footsteps and join the Police – now it's his turn to catch the bad guys.
Daniel thinks he's the perfect hero – good, honest and brave.
The others think he probably needs to lighten up and accept that he's as flawed as the rest of us.
Daniel's about to face the biggest dilemma of his life – something that threatens to destroy his relationship and his perfect career.
Ryan O'Kane
Ryan played the freshly released criminal Brad in The Insiders Guide to Love (The Gibson Group, 2005). From bogan black jeans to blue uniform, in The Hothouse Ryan plays the cop with the hero-complex, Daniel. He also had a small part as a policeman in the feature film Out Of The Blue. He has trained at Toi Whakaari: NZ Drama School, and performed in half a dozen productions at Dunedin's Globe and Allen Theatres.
The last time New Zealanders saw Ryan O'Kane, it was as a shaven-headed bogan who broke into a stranger's house to have sex with his girlfriend minutes after being released from prison. Playing Brad in the quirky Gibson Group series Insiders Guide to Love, Ryan won critical acclaim for his performance as the loveable ex-crim whose main concern was his dog, Batman.
"Being a bogan was great fun! I really liked it," says Ryan. "But The Hothouse is one that mum can sit down and watch this time, to see her son in a uniform. Except that I haven't told her yet about some of the dodgy stuff I end up doing."
Ryan plays Daniel, a cop in his mid-twenties who likes to think he's upholding the law, but when faced with a complicated set of circumstances begins to shift his moral compass, along with the blame.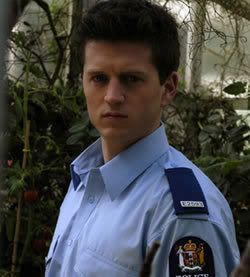 "Daniel is trying to live up to his father's image: this pillar of society; the guy who always does right. But his actions are contrary to that. He sees himself as some sort of crusader for morality. But at the same time he does some things that go completely against that. When he tries to fix them, it gets worse."
Though The Hothouse explores some dark themes, Ryan enjoys the black humour peppered through the script: "Daniel does some of the worst things someone could think of. Ridiculous things. But they're hilariously funny at the same time."
Ryan happily admits to liking the uniform. "I think it's pretty cool. I find the idea of being a policeman really attractive. You watch movies and get to see all the cool stuff that cops do. Apparently there's a lot of boring paperwork and that's why they're having trouble recruiting now, but I just like the idea that you're part of some bigger unit."
Playing a cop did pose some interesting situations for Ryan. There are strict rules around impersonating an officer, with actors required to cover up when they're not shooting a scene. Nevertheless, one of Ryan's neighbours mistook him for a cop when he spotted him in costume during a Hothouse shoot.
"I'd talked to him in the backyard while he was smoking pot and stuff. And then one day he said 'Hey, are you a policeman? 'Cause that thing about the pot in the backyard…?' And I went 'No, actually, I'm just an actor'. And he said 'Oh thank goodness. I was walking up Cuba Mall the other day and I saw you in your uniform and freaked out!'"
Ryan worked closely with Tania Nolan, playing partners Daniel and Isobel. He finds the complexities in their work and personal lives interesting.
"The idea that she's a lawyer and he's a policeman has never really been a problem. But now she's defending some of these guys that he's arresting. On one level Daniel does understand that but on the other hand it really frustrates him."
As for their relationship, "I think he genuinely loves her but he's slipped into this relationship out of routine. And it's become something that he can't actually live without now. It snuck up on him.
"The next logical step would be to move out and get a place by themselves and get married…" But the return of Levi into Daniel's life means all bets are off.