Fans of Rude Awakenings are congratulating Television New Zealand on providing a great comedy-drama to their screens.
Unfortunately, those who wrote to TV Guide (see below) don't seem to realize that a second season is not in the pipeline.
A TVNZ publicist, Melanya Burrows confirmed to Sunday News on April 1st that "there will not be another series of Rude Awakenings", and A M.F Films publicist confirmed that TVNZ have decided against a second season.
But these announcements have not stopped the public from showing their support for the series, with messages being sent to TVNZ and TV Guide about a second season.
Below is a copy of some of the letters sent to TV Guide about the show. Note how many of them look forward to another season.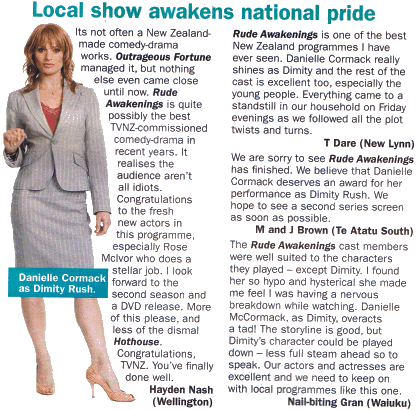 If you would also like to see the show return to our screens with fresh episodes, click here to email TVNZ with your views, and leave a message below. Don't be shy – the only way the show has a chance of returning is if you tell TVNZ that you liked it.