The loveable ladies from Fountain Court are back on 3 for a brand new season of their Award-winning series Kath & Kim, premiering on Sunday, 7th October at 7:30pm.
On the back of a hugely successful third season the show returns with a new series full of celebrity cameos, mispronunciations, marital problems, cosmetic surgery and a very special first birthday celebration for little Epponnee-Rae.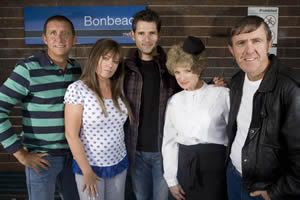 Starring Gina Riley as Pussybum Princess Kim and Jane Turner as her foxy mother, Kath, Kath & Kim tells the story of a mother and daughter – suburban nightmares living the suburban dream.
When we last left the ladies, Kath had embarked on a new fat-free diet with her red-meat loving butcher husband Kel after he suffered a suspected heart attack.
She's been taking nutrition advice from daughter Kim, who's the master of diets, having tried the Atkins, Ozone, CSIRO, RSPCA, RACV, ASIC. "The last one was very hard, it involved no insider eating,� says Kim.
Meanwhile, Sharon was finding it harder than ever to contain her lustful desires for second-best friend Kim's hubby Brett. Will Sharon ever get over losing her high-school sweetheart to Kim?
Baby Epponnee Raelene Kathleen Darlene Charlene Craig is also about to celebrate her first birthday and as to be expected, Kim isn't sparing any expense on the party for her talented tot.
Series four builds on a stellar cast of cameo appearances, which in the past have included Kylie Minogue, Rachel Griffiths, Geoffrey Rush, Michael Buble and Barry Humphries.
This season Kath & Kim will introduce characters played by cricketing legend, and Sharon's dream man, Shane Warne; Little Britain's Matt Lucas; Hollywood hero Eric Bana; and Australian funnyman Rob Sitch.
The new series of Kath & Kim promises to showcase Australia's suburban dark underbellies in all its hilarious yuman form. Don't miss the season premiere screening Sunday, 7th October at 7:30pm on 3.