Out of the Blue, screening Saturday November 10th at 8:30pm on 3, is a gripping and powerful true story of courage and survival.
On November 13th 1990, in the small New Zealand seaside town of Aramoana, local man David Gray (Matthew Sunderland) took a high-powered automatic weapon and shot dead thirteen people.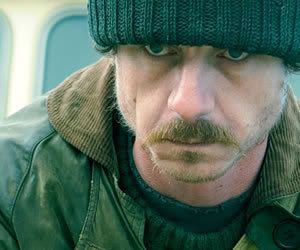 Playing the role of a mass murderer remains one of the most profound experiences of Matthew Sunderland's career.
"I feel incredibly proud of the way we told the story," says Sunderland.
"It was an extraordinary process to go through and all I can hope is that I portrayed a difficult character with integrity," he says.
Despite the horrendous nature of Gray's actions, Matt strove to bring some humanity to his role. He read books and watched documentaries on Aramoana, as he struggled to understand the inexplicable.
On that terrible day in November the murder spree came entirely out of the blue, and the final toll resulted in New Zealand's worst mass killing.
As confused emergency services scrambled to reach Aramoana, a handful of young, under-armed policemen entered the killing zone, not realising they too risked death at any moment.
Terrified and confused residents were trapped in their homes for 24 hours, not knowing where David Gray was, or if they would become his next victim.
There were great feats of bravery from ordinary people in the most extraordinary of situations.
However, despite a cordon around Aramoana, Gray simply disappeared into the night and the thick bush. By applying his knowledge of local terrain and hiding in several deserted homes, he stayed one step ahead of capture while the police, fearing further bloodshed, proceeded with utmost caution in their manhunt until daylight.
With that a dozen or so terrified Aramoana residents remained trapped in their homes, never knowing where the killer was – or if they would be his next victim?
Out of the Blue is a gripping and powerful true story of courage and survival which takes place over a 24-hour period from the perspective of the members of the Aramoana community, and three people in particular, the gunman, David Gray, local policemen Nick Harvey (Karl Urban), and courageous Aramoana resident Helen Dickson (Lois Lawn).
Don't miss the worldwide television premiere of this griping story of courage and survival, Out of the Blue, screens Saturday November 10th at 8:30pm on 3.