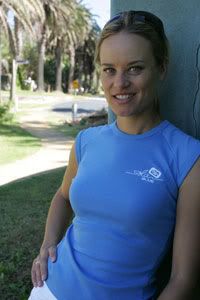 Blue Water High is the smash hit surfing drama that took out 'Most Outstanding Children's Program' at this year's Australian television awards – The Logies. It was also named favourite television show at the Nickelodean's Kids' Choice Awards.
Season one of the award-winning show starts screening weeknights on TV2 this week at 4.55pm, with the first episode kicking things off on Tuesday, December 26. Blue Water High is set to become a favourite among children, teenagers, and the young at heart.
Lead actress Sophie Luck, who plays Fiona, is only 16 and has already won an AFI award – being recognised for her role with an AFI for 'Best Young Actor In Children's Drama'. Starring alongside Sophie is Nadine Garner as Deb. Nadine has long been a favourite on the Australian small screen with roles in many top shows including The Henderson Kids, Water Rats, The Secret Life Of Us, Neighbours and more.
Nadine has high praise for Blue Water High, saying, "It's a good idea that makes you wonder, 'why has no one done it before?' I think they have, and I think it was called Baywatch!"
"This is about the kids as athletes rather than sex symbols. Sure, they're good-looking and they're healthy, but they're not there to be ogled. It's about young people excelling, fulfilling their potential and working hard. There's a very positive message."
Blue Water Beach is the perfect place to be a teenager. Beautiful beaches, crystal clear water, long sunny days. The cafes spill onto the streets, the streets spill onto the foreshore and the music spills across everything. The map calls it Blue Water Beach. The locals call it 'Heaven'. And, bang, in the middle of this paradise is a high performance surf academy where every year seven lucky 16-year-olds are selected for an intensive, 12-month residential surfing and schooling program.
Blue Water High screens weeknights on TV2 at 4.55pm, starting on Tuesday, December 26.