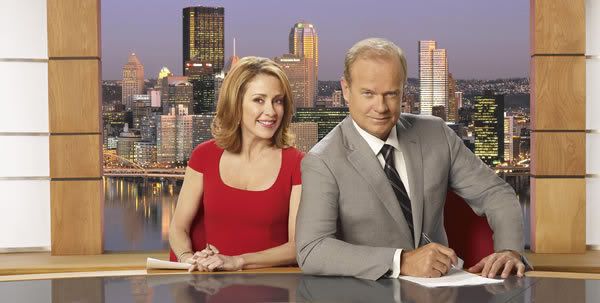 Thursday, August 28th at 7:30pm
Comedy fans will finally witness the highly-anticipated union of two Emmy Award-winning actors, Kelsey Grammer (Frasier) and Patricia Heaton (Everybody Loves Raymond), when Back to You premieres on Thursday, August 28th at 7:30pm on 3.
The new comedy series centres on a pair of star news anchors with on-air chemistry and off-air conflict who find themselves working together again after 10 years apart.
Grammer, who earned a pair of Golden Globes and five Emmy awards for his portrayal of the snobbishly intelligent Dr. Frasier Crane on Frasier, now essays the role of the less than stellar yet egotistical Chuck Darling on the new hilarious comedy.
Back to You also marks a reunion of sorts for Grammer and fellow Frasier colleagues, Steven Levitan and Christopher Lloyd. Lloyd and Levitan both served as writers and executive producers on Frasier and are now co-creators of Back to You.
The three Frasier veterans recently spoke about making the transition from their old series to their new one.
"Frasier was so complicated, so messed up, whereas Chuck is really a simpleton," Grammer admits. "He's not the smartest guy in the world, smart enough to get by, not a bad storyteller, but he's an egomaniac where Frasier was not."
"We quite often, on a daily basis, say, `OK, what would Frasier do here, and let's do the opposite,'" Levitan reveals. "Even though there are going to be a lot of people who still think of him as Frasier, we hope in time that they will see him as Chuck Darling. I know we have."
Levitan also opened up about the choice of Patricia Heaton for their female lead, saying that she's a perfect ying to Grammer's yang.
"What makes Patty [Patricia Heaton] so important to us is that she's one of those rare actresses who can go toe-to-toe with Kelsey, who can be just as strong as he is in a way that doesn't make her seem un-likable," Levitan says. "From the beginning, Kelsey locked into Patricia as the right person for that role."
Tonight's season premiere sees the newly desperate Chuck Darling revisit his old Pittsburgh co-anchor roots after an embarrassing on-air tirade makes its way onto the internet.
Following some contemplation about his downward-moving career and his lifestyle of chasing women, he decides to make his comeback by sharing a news desk with old co-anchor Kelly Carr (Heaton), in spite of all the quarrelling behind the cameras. Now, the pressure is on both of them as they attempt to take their newscast back to number one.
Make sure not to miss this hilarious new comedy when Back to You premieres on Thursday, August 28th at 7:30pm on 3.