The series that has put some of the nation's podgiest pets through a six week heath and fitness overhaul will for the first time Downsize both owner and pet in the season final of Downsize My Pet, screening Tuesday, November 13th at 7:30pm on 3.
Toska is the tubby 6 year old chocolate coloured, chocolate chomping Labrador of the McGaw family. As the family's four legged dishwasher it's her job to lick all the dinner plates sparkling clean. At the office, her puppy dog eyes have all Dad's co-workers donating their sausage rolls, burgers and buns.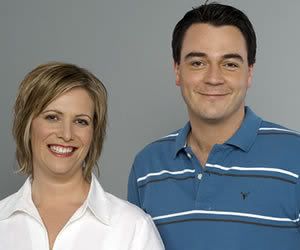 In fact, Toska is a master in the art of begging, having Mum, Dad and the kids wrapped around her little paw. But the worst offender of all is Toska's mum Megan who dishes out love throughout the day. With the steady stream of toast, pasta, pies and fries both Toska and Megan's waistlines are expanding as fast as the food is being eaten.
Now it's time to Downsize both owner and pet!
It'll be up to super vet Sasha Nowell and animal trainer Alexis Banas to get the lazy and lethargic lab off the couch and into an exercise regime.
However, it'll take big guns to beat the big buns of Megan so joining Sasha and Alexis in this season final is a special guest, 'Downsize Me's' diet demon Damian Kristof. It's up to him to steer Megan clear of those tempting treats which are sending her and Toska to an early grave.
But changing the habits of a lifetime can be hard, especially for this busy Mum. Faced with a strict new exercise and training regime, will Megan force herself and her furry friend off the couch and back on track in time to complete their ultimate fitness challenge? Or will those puppy dog eyes be too enticing to resist giving in?
Packed full of nutrition, exercise and training tips for both pet and owner the Downsize My Pet finale promises to revolutionise the way we care for our precious pets and ourselves.
Don't miss this action-packed and highly entertaining one hour Downsize My Pet season final, screening Tuesday, November 13th at 7:30pm on 3.