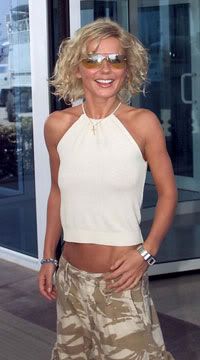 Tuesday, November 21, 8.30pm
Extreme: Skinny Celebrities is all about skinny celebrities. Why are they so skinny, what is it all about? Why are we so fascinated?
In the ultimate devotion to their careers, celebrities toil with the daily battle to stay the thinnest, and in their eyes, the best. But at what cost?
Delving into the lives of some of the world's favourite scrawny stars, Extreme: Skinny Celebrities reveals the dark truth behind celebrity dieting and the worrying headline-grabbing cult of the skinny celebrity, highlighting just how much of an epidemic staying thin in the spotlight has become. But it's not just the celebs who are obsessed with their appearance; it has gripped the world too.
Today's diet shows are obsessed with obesity. We're all aware of the risks associated with piling on the pounds but is being dramatically underweight just as bad? It's time to tell the truth about the effect of extreme thinness. Osteoporosis, hair loss, dental decay, wrinkles, early menopause, heart failure – these are the truths of extreme slimming. Extreme: Skinny Celebrities proves that being super skinny is just as dangerous as losing the battle of the bulge.
In the ultimate antidote to dieting, this show will stun calorie-counting stars Mary Kate Olsen, Lindsay Lohan, Sophie Dahl, Geri Halliwell, Renee Zelwegger, Teri Hatcher, Jordan, Victoria Beckham, Nicole Kidman and the ultimate 'lollypop lady' Nicole Richie with a host of extreme slimming consequences.
How have our famous faces changed over the past few years? What has happened to their BMI? Have their heads ACTUALLY grown as their bodies have shrunk or is that an optical illusion?! Using image manipulation each celebrity is morphed over time to illustrate the changes through which their bodies have gone.
Using information about the celebrities' diets, CGI technology fast forwards them through the next 20 years of their life to reveal their not-so-perfect image. What will Nicole Richie look like at 50 if she continues to starve herself? What sort of ailments is she likely to develop? And, most importantly, will she live to see 55? In a shocking revelation, concerned experts predict RIP ages for certain celebrities in the danger zone.
The show then rounds up their famous friends, dieticians, doctors and celebrity pundits, who all offer their insight into this dark world of celebrity starvation. The lives of these skeletal stars are put under the microscope, and the conclusions that are drawn aim to shock both the stars and the public out of their fascination with staying thin.
Extreme: Skinny Celebrities screens at 8.30pm on TV2 on Tuesday, November 21.