Paul Wigmore, his wife Sarah and their two teenage children, are used to getting far away from home. Travelling the world and experiencing different cultures is the Wigmore family's number one priority.
Their favourite destination is Thailand and it is to the Far East that they jetted off with their new unknown family.
The idea to go on Holiday Showdown came from Jade. The Wigmore's had just got back from a month long holiday, were depressed and in desperate need of another break, so applying for the show seemed like the perfect option.
"Jade managed to persuade us to go on and we went just because we thought it would be really funny," said Mrs Wigmore. "We were surprised to be accepted just because we are really normal and get on with most people.
I hadn't seen many of the programes before but there seemed to be a lot of arguments in the past. I think the producers were trying to achieve something different with our episode."
Their companions – the Coates – are from a council estate on the outskirts of Bristol and have not left their home town in 17 years. But does this lack of travel signify something far greater than simply no imagination?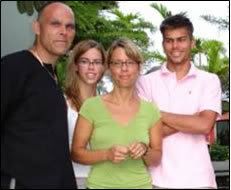 HOLIDAY SHOWDOWN, Friday 20th June at 8.30pm on PRIME