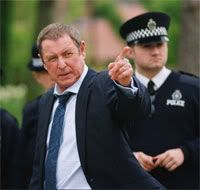 Detective Chief Inspector Tom Barnaby (John Nettles) is back to unravel the dastardly goings-on in the fictional village of Midsomer Worthy.
Saturday 25 November, 8.45pm, TV One
Nettles is having a ball playing quiet detective Barnaby who, unlike most television cops, isn't crippled by drink, divorce or gambling problems. After playing recovering alcoholic Jim Bergerac for 12 years, Nettles is relieved that his current character is so ordinary. "I like him. He wears a three-piece suit and drives a sensible Rover. Plus, Barnaby is a gentleman. He always says 'please' and is a great one for old-fashioned virtues."
Nettles isn't the only one who has a soft spot for Barnaby. He (and Nettles) still receives bags of fan mail. "The writing's more uncertain as the ages increase, one woman said I was the housewives' favourite, I think that puts me in the Jimmy Young brigade, which isn't a bad thing," laughs Nettles.
The series, with its quaint villages and quirky crimes, is also hugely popular throughout the world, but global success has its drawbacks. "It's terrific that 'Midsomer Murders' is so popular, but I can't travel anywhere in the world now without someone recognising me. Critics are everywhere!" Nettles laments.
In tonight's episode: Barnaby and Scott enter the world of horseracing when the trainer of thoroughbred Bantling Boy is battered to death. Bruce Hartley was an alcoholic who had vowed to expose the reason why his father bequeathed the horse to four Midsomer villagers. The other members of the syndicate come under suspicion, but the killing continues – then Bantling Boy falls ill. The detectives must unravel secrets hidden at the aristocratic Bantling Hall to find the killer.