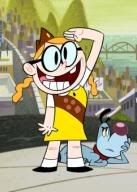 Mighty B is a brand new cartoon series, about Bessie Higgenbottom – the world's most ambitious and lovably unhinged 10-year- old "Honeybee" scout. As a member of the Honeybees, Bessie wears her uniform every single day, leads her troop with a zeal General Patton would have admired and has earned more Bee Badges than any Honeybee in history. But a bunch of badges still elude her, and Bessie's not stopping until she has every last one.
Bessie represents the ever-optimistic spaz, who believes she can grow up to be a rock star, actress, politician and brain surgeon all at the same time
Mighty B, picked up for 20 episodes, stars Amy Poehler as the voice of Bessie Higgenbottom and will premiere in 2008.