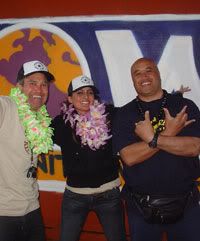 This week on No Opportunity Wasted, host Phil Keoghan and three challengers are desperate to create something positive in a Kiwi town which has become synonymous with negative headlines.
Sunday, December 17, 6.00pm, TV2
Desiree, Billy and Richard all have a deep affection for Tokoroa, and have been granted 72 hours for a once-in-a-lifetime challenge to do something for the youth of Tokoroa by transforming an empty site into a magnificent youth park.
"I love Toke," says Desiree Ryan, a passionate young lawyer who works in Hamilton. Desiree is saddened by the hits the town has recently taken, but is still deeply proud of the place she grew up in. A university graduate and winner of scholarships and awards, Desiree applied to No Opportunity Wasted to give something back to her community, so local youth can share the same opportunities she had.
Joining Desiree are Billy Maea and Richard Gaby. Born and bred in Tokoroa, Billy is the project manager of Te Vaka Village, a local Pacific Island business initiative drawing on Tokoroa's rich Polynesian community, and is passionately involved in the community, leading Pacific Island dance groups on national and overseas tours.
Manager of the local swimming pool in Tokoroa, Richard Gaby is one of the town's great characters. An irrepressibly energetic larrikin, with a bag of pineapple lumps always close at hand, Richard is respected by everyone in the community – young and old alike.
These three have just 72 hours to give the young people of Tokoroa their 'field of dreams', complete with flying fox, performance stage (for kapa haka, hip hop to community events and movies), pou (Maori totem poles), graffiti wall, volleyball court, BBQ area and playground.
They'll be the forepersons of their No Opportunity Wasted challenge: rallying support, harnessing construction and design expertise, working massive earth moving equipment under huge lights day and night, desperately fundraising, co-ordinating volunteers, feeding masses of people, keeping energy levels high on little sleep, confronting hurdles and time pressure… and rousing the spirit of a unique New Zealand small town.
All the while they'll prepare for a concert party – featuring a Shortland Street MC, local acts, and New Zealand hip hop stars Nesian Mystik – to give the park the launch it deserves. These No Opportunity Wasted challengers have the chance to give the town an extreme makeover, change the headlines, and put the zeal back into the kids of Tokoroa's lives.
No Opportunity Wasted screens at 6.00pm on Sunday, December 17.